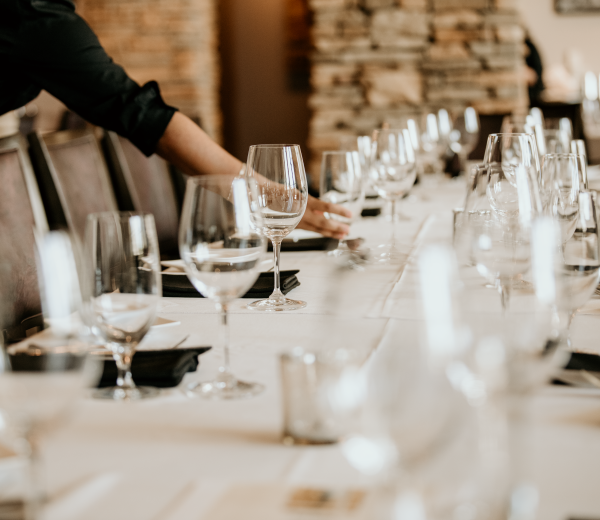 The Grande
7593 Chophouse
At 7593 Chophouse, fresh seafood and steaks are delivered daily and all enhancements are made with fresh vegetables and bold spices. A uniquely extensive wine list and signature cocktail menu also offer wine pairings and libations for every taste, completing the upscale steakhouse experience.
Wednesday & Thursday: 6pm-9pm
Friday & Saturday: 5pm - 10pm
7593 Chophouse
Starters
Onion Soup Provolone, Gruyere, Toasted Baguette $8


Spinach Dip Mascarpone Parmesan, Crostini $12


Seared Crab Cakes Whole Grain Mustard Remoulade, Corn Relish $19


Oysters* Seasonal Oysters served with Cocktail and Mignonette Sauces
Shrimp Cocktail Green Harissa Mayo, Cocktail Sauce $16


Bacon and Eggs Maple Glazed Bacon, Fried Egg, Smoked Sea Salt $15


Prosciutto and Artichokes Lemon Vinaigrette, Roasted Tomatoes, Spring Mix $14


Salads
Strawberry Fields Salad Spring Mix, Candied Pecans, Feta Cheese, Sunflower Seeds, Strawberry Vinaigrette $12


The Wedge Iceberg Lettuce, Candied Bacon, Marinated Tomato, Red Onion, Creamy Bleu Cheese $12


Caesar Romaine Lettuce, Parmesan Crisp, Lemon Garlic Dressing, White Anchovies $13


Burrata Caprese Salad Creamy Mozzarella, Tomato, Basil, Balsamic Glaze, EVOO $13


Entrees
Cedar Plank Salmon* Summer Bean Salad, Balsamic Onions, Roasted Tomatoes, Lemon Vinaigrette $34


Shrimp Scampi Linguini, Gulf Shrimp, Scampi Sauce, Fresh Herbs $28


Orecchiette Bolognese House-Made Veal and Beef Plum Tomato Sauce, Ricotta Salata, Fresh Basil $26


Half Roasted Chicken Roasted Garlic Mashed Potato, Broccolini, Natural Jus $32


Steak Frites* Herb Marinated Flat Iron Steak, Truffle Fries, Blue Cheese Butter $34


Steaks & Chops
Filet Mignon*
8 oz. Petite $44
12 oz. Bone-In $56
New York Strip*
14 oz. $48


Signature Bone-In Prime Cowboy Ribeye*
18 oz. $65


Double Thick Pork Chop*
14 oz. $34


Lamb Chops*
$48


Enhancements
Bearnaise Sauce

$4

Au Poivre Cognac Sauce

$4

Apple Butter

$3

Truffle Butter $3

House Signature Steak Sauce

$3

Crab Oscar $16

Additions
Cipollini Onions $6
Roasted Garlic Mashed Potatoes

$8

Lobster Mac and Cheese

$16

Mushroom Medley

$10

Truffle Steak Fries

$10

Crispy Brussels

$8

Loaded Giant Baker

$10

Jumbo Asparagus

$8
Joe Namath Cocktails
All Cocktails $12


Hepburn Toast La Marca Prosecco, New Amsterdam Gin, Lemon Juice Served with a Twist


JFK Cape Codder Svedka Vodka, Chilled Cranberry Juice, Fresh Lime Juice, Garnished with Lime Wheel


Ole Babe Ruth Jim Beam Whiskey, St. Germain, Splash of Ginger Ale, Garnished with Orange Slide, Lemon & Cherry


Sugar Ray Punch Cruzan Silver Rum, Cranberry Juice, Strawberry Puree, Splash of Lemon-Lime Soda with Floating Strawberries


7593 Signature Sangria Infused Red Wine, Brandy and Fall Fruits Pitcher (5 Glasses) $50


300 Marys Svedka Vodka, Chophouse Spicy Kim Chi, Bloody Mary Mix and Dirty Olives


Desserts
Vanilla Creme Brulee Fresh Berries $8


New York Style Cheesecake Chantilly Cream, Berries $10


Chocolate Earthquake Cake $12


Chophouse Brookie Served Warm with Vanilla Ice Cream $10


Warm Apple Tart Vanilla Ice Cream $11


*Eating raw or undercooked meats, poultry, seafood, shellfish or eggs may increase your risk of foodborne illness. Member discount applies. 20% gratuity added for parties of six or more.
View Menu
Reserve a table