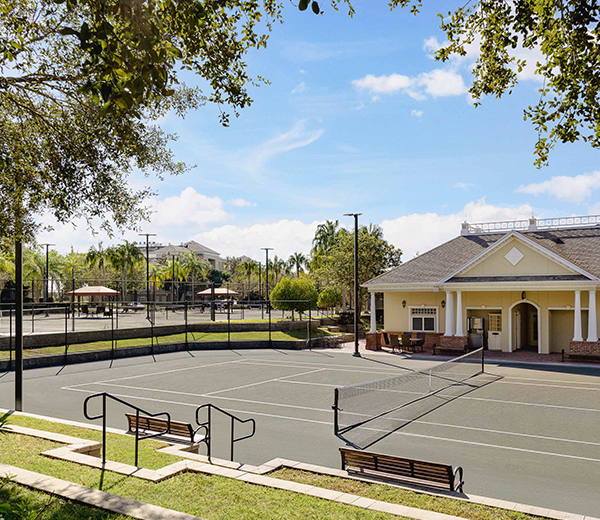 Tennis
Reserve one of our six state-of-the-art clay Hydro-Grid tennis courts at our award-winning tennis facilities. Take advantage of our on-property clinics and 1-on-1 tennis lessons taught by USPTA certified pros geared toward all ages and skill levels.
Stop in at the Tennis Center to reserve court time, sign up for a tennis clinic, or arrange private lessons. For more information, call (407)-396-5370.
Hours of Operation:
Monday - Tuesday | 8:00 am - 4:00 pm
Wednesday - Saturday | 8:00 am - 9:00 pm
Sunday | 10:00 am - 7:00 pm
Tennis
RESERVING A COURT
Guests may reserve a court for $30 for 90 minutes of play. Two rackets and four balls are included with the court fee. Players must check in at the Pro Shop prior to their court time. If you are reserving court time for late afternoon or evening play, please come to the Pro Shop prior to 4 pm. closing time to check in and receive your equipment. Our Pro Center team will put a sign on the court to reserve it for you and leave the lights on.


Reunion Resort has a full-service, fully-stocked Tennis Centre Pro Shop with everything you need to begin your game or upgrade your equipment or wardrobe. Professional racquet stringing is available and we offer a top-of-the-line ball machine and racquets for rent. Our Pro Shop staff will be happy to help you with anything you need.


TENNIS CLINICS
Reunion Resort offers daily tennis clinics with certified tennis instructors so our guests can improve their skills. You'll find top-notch instruction and a quick pace during the instructional style games and drills. Our coed clinic is geared for levels 3.0 and above (we average between 3.5 and 4.5).


Cost is $40 per guest.


TENNIS LESSONS
Looking for some 1-on-1 skill work? Sign up for our tennis lessons. You'll have 1-on-1 instruction with our Tennis pro for the time frame of your choosing. You can choose a 30 minute lesson, or an hour.


30 Minute Lesson-$50
1 Hour Lesson- $85
MEET REUNION RESORT'S TENNIS PRO, Marcelo Gouts
We are very excited and pleased to announce our partnership with USPTA Elite Professional, Marcelo Gouts and his company, MG Tennis of Orlando.


Marcelo Gouts has been part of Central Florida Tennis for the past 35 years. A native of Buenos Aires, Argentina, where he grew up playing as a ranked junior player. His teaching career began in 1982, where he relocated and soon began working with tournament junior players and adult league teams. He is the president of M.G. Tennis shop, Inc., a management company that currently operates Lake Cane Tennis Center here in Orlando as well as the tennis programming for the Town of Windermere.


Throughout the years, Marcelo's programming and coaching career has made him a true icon an ambassador of tennis in Central Florida and beyond. He has been a member of the USPTA since 1987 and currently holds a certificate as Elite Teaching Professional. He is also a member of the USTA Florida Board of Directors where he has served for the past 5 years.


Tennis has always been Marcelo's passion. Throughout the years his goal has been to provide tennis opportunities to everyone that comes to our tennis centers looking to get involved in the game. Also a new ambassador for Pickleball and other racket sports, Marcelo is looking forward to continuing promoting health and recreation across the nets at Reunion Resort.


His teaching philosophy is simple; make fun and right the first time around and players will stick with the game for a lifetime.
REVIEW US ON TENNISRESORTSONLINE.COM!
Reunion Resort is featured on TennisResortsOnline.com, whose founder and editor-in-chief, Roger Cox, has spent more than 35 years writing about tennis travel. No resort pays to be featured on the website. These are not ads but informed descriptions based on Cox's broad, firsthand knowledge of tennis as well as the wisdom of the TennisResortsOnline.com community of visitors, who are invited to comment about their own vacation experiences. The goal is to help you make great choices about where to take your next tennis vacation. Review your own tennis experience at Reunion Resort by clicking here.
Learn more