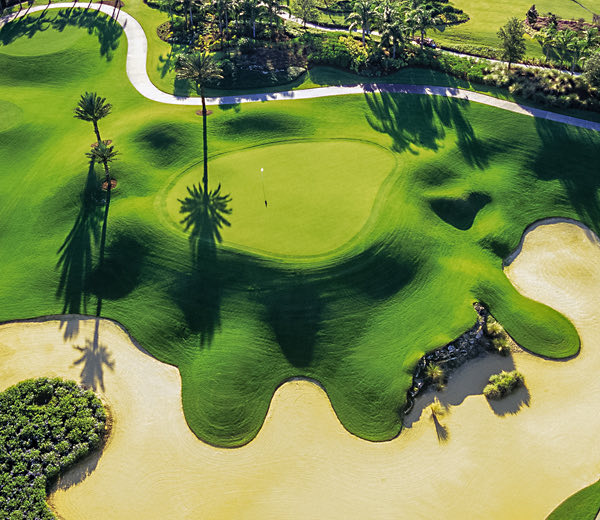 Jack Nicklaus
Tee off along smooth, flowing horizon lines with elevated tee boxes and greens. This thoughtfully-organized set of 18 holes challenges each golfer to achieve.
To reserve your tee time, please call 407.396.3199.
Jack Nicklaus
Hole 1
PAR 4 | 372-324-311-271 YARDS
A properly placed tee shot down the left side of the fairway will leave a short iron approach into this small narrow green. Any shot hit over the green will leave a difficult up and down, possibly setting up bogey or worse.
Hole 2
PAR 4 | 440-402-390-311 YARDS
The conservative play on this demanding par 4 is to aim down the left side of the fairway. Taking an aggressive line down the right side over the bunkers provides the shortest approach shot into this well guarded green. Club selection is critical for an opportunity at a realistic birdie putt.
Hole 3
PAR 5 | 585-553-536-459 YARDS
Water makes it debut on this initial par 5. The key here is taking the right side out of play with a well placed tee shot down the left side. A true three shot par 5, playing for position down the left side will leave a short iron into a small target green. A birdie putt awaits the golfer who strikes his approach shot the correct distance.
Hole 4
PAR 4 | 414-373-357-284 YARDS
Long hitters can challenge the carry of the fairway bunker to set up a shorter, open angled approach into this well guarded green. The undulating green which is protected in front by water can be difficult to putt.
Hole 5
PAR 3 | 223-196-178-143 YARDS
The fifth is a long and demanding par 3 that is well guarded down the left side with sand. A high soft iron shot is required to navigate this well protected green. Par will be a good score.
Hole 6
PAR 5 | 559-512-500-425 YARDS
The ideal line off the tee is just left of center. Aggressive players may challenge the bunkers down the right side providing an option to go for the green or setting up the perfect lay up approach. An elevated target green makes proper distance control a must.
Hole 7
PAR 4 | 372-349-332-259 YARDS
A drive placed down the right side of the fairway provides the best angle and visibility to approach this green. This green is not very wide, so accuracy is a necessity. Birdie is a distinct possibility for shots carrying the proper distance.
Hole 8
PAR 3 | 197-146-127-70 YARDS
The shortest hole on the course, this narrow green demands both accuracy and proper club selection off the tee. Avoid being short and right!
Hole 9
PAR 4 | 382-358-342-269 YARDS
A generous landing area for your tee shot will leave a short iron approach to this elevated green. Club selection is critical because depth perception may be difficult on one of the smallest greens on the front nine. Missing the green to either side will leave a challenging up and down most likely resulting in bogey.
Hole 10
PAR 4 | 461-408-390-314 YARDS
The longest par 4 on the back nine requires a lengthy tee shot down a fairway that is protected on both sides by large bunkers. An accurate approach is needed to navigate a green that is guarded by a menacing bunker in front. This undulating green will challenge even the best putters.
Holer 11
PAR 3 | 184-151-135-108 YARDS
This scenic par 3 requires accurate club selection for a legitimate shot at birdie. Don't be long, as a steep slope funnels golf balls into a deep collection area making an up and down extremely difficult.
Hole 12
PAR 4 | 433-368-355-293 YARDS
Drives toward the left will provide a better angle to this elongated green tucked behind a small knoll. Par will be a challenge for any approach shot that misses the green to the left. Subtle contours on this green can make putting a difficult task.
Hole 13
PAR 4 | 453-399-383-290 YARDS
Positioning your tee shot accurately is the focus of this hole. Recovering from the either fairway bunker may be difficult. The ideal angle requires a shot down the left side leaving you a short iron approach. This green is large and relatively flat allowing birdie opportunities for shots carrying the precise distance.
Hole 14
PAR 4 | 438-388-372-285 YARDS
The preferred line off the tee is to play to the right side of the fairway. There is no room for error as a small target green hangs precariously out over the water featuring a bulkheaded green. A courageous shot to any flagstick located left of center will be rewarded by having a relative flat putt. A large collection area to the right gathers all shots intent on avoiding this menacing water hazard.
Hole 15
PAR 5 | 532-486-472-422 YARDS
Swing freely on this medium length par 5 designed with a generously wide fairway. A long straight tee shot sets up perfectly for a second shot toward the green. Any lay-up short of the green requires a precise wedge shot to reach the flag. Putts can be tricky once arriving on the green.
Hole 16
PAR 3 | 210-177-158-116 YARDS
Check your yardage carefully! You can't afford to miss it short. The signature sixteenth hole features a daunting carry over water to a shallow firm green protected in front and back by deep bunkers. Holding this putting surface will be a challenge. Leaving the green with a par or better will inspire you to finish strong.
Hole 17
PAR 4 | 413-390-377-327 YARDS
Tee shots should favor the right side of the fairway to obtain a clear view of the flagstick. When the hole is cut back left, don't be intimidated by the blind second shot; just trust your yardage. A well played second shot will set up a birdie opportunity.
Hole 18
PAR 5 | 576-557-545-409 YARDS
This exciting finishing hole offers you a chance to finish strong. Favor the right side of the fairway for obvious reasons. Bunkers frame the fairway and provide a second shot target. Avoid the expansive waste area down the entire left side, and a birdie opportunity on the scorecard awaits!
Learn more